The CamBelles series of precision skin tone patterns are not just pretty pictures of Natasha, Sonya, Jennifer and Christina, all delightful, young people with great personalities, but scientifically designed test patterns
The S1 pattern is the first of the series developed by DSC Labs in response to requests for high-definition test images to replace the old skin tone patterns of the 70's and '80s.
Skin color is a highly complex subject and, to reproduce it accurately in a print that complements the precision of other DSC test charts required considerable research into the color and spectral distribution of various skin tones. We had previously worked in this field in order to produce the skin tone chips in ChromaDuMonde, CamAlign and Combi colorbars.
To cover the gamut of a modern multicultural society, we included four different skin tones; African, Asian, Caucasian and East Indian. The beautiful young women now appearing as the Cambelles are all from the Radio and Television Arts course at Ryerson University and we're grateful to Professor Richard Grunberg for introducing them to us. They all aspire to careers in the industry; so watch for them, they could be the superstars of the future.
The CamBelles charts are useful for setting camera skin detail circuits, and for final subjective camera testing.
Designed primarily for digital film production
As with any technology, front-lit test systems have limitations. While ideal for setup under diverse lighting conditions and to check consistency between cameras, front lit technology is limited in its ability to reach the extreme levels of saturation and dynamic range demanded by many modern cameras.
For these reasons respectively, DSC has developed the Northern Lights® (a Front- and Rear-Lit System) extended color gamut test system and the Xyla® super high dynamic range test system. Providing the same level of accuracy as DSCs' front lit products, these charts provide invaluable information regarding your camera's true level of performance when pushed to the most extreme limits.
NorthernLights combines DSC's 28 popular ChromaDuMonde colors, with 11 step crossed grayscale, hyperbolic resolution wedges and R,G,B C,M,Y highly saturated colors at the virtual edge of the human visual spectrum.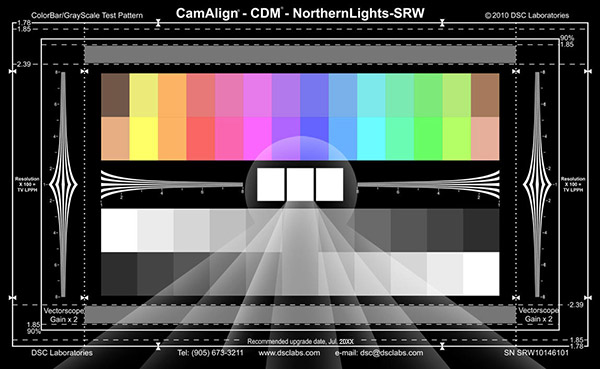 Northern Lights Features.
28 ChromaDuMonde colors, produce DSC's familiar and easy to use hexagonal vectorscope display
11 Step patented spectrophotometrically neutral grayscale, enables fast precision adjustment of dynamic range and gammas
18% gray strips top and bottom, provide instant lighting evenness reference
Hyperbolic resolution trumpets, for fast check of vertical and horizontal resolution
DSC "CaviColor" central rear illuminated color reference, provides an ultra wide R,G,B – C,M,Y color gamut
Fast Color matching, hand held controller allows users to make fine adjustments to match rear lit white reference to set lighting
Variable speed control, produces sequential vectorscope display of ultra saturated colors
Note: to see these ultra saturated colors requires setting vectorscope gain at 50% of normal electronic color bar.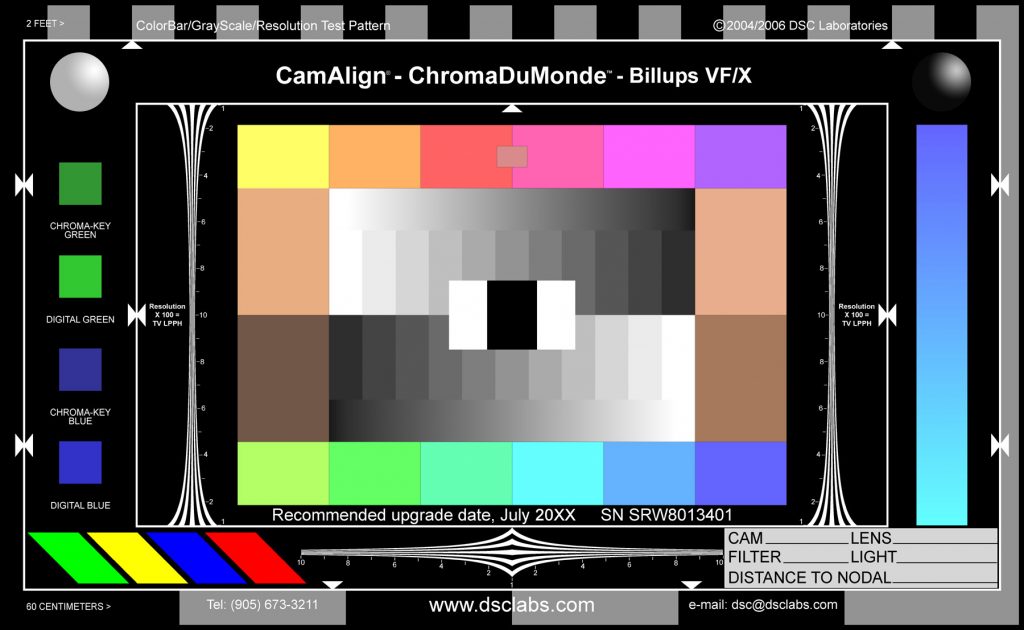 In addition to the ChromaDuMonde colors and grayscales, Billups VF/X features:
Grayscale and sky-blue ramps – identify banding introduced in image processing
Digital Green and Blue – special effects chips from Composite Components plus Rosco's Chroma Key Green and Blue
High Chroma slashes – very useful for checking and tracking chroma aliasing through post
Data information panel – including nodal to chart distance
Inch and centimetre scales – which, along with Nodal to chart distance, enable simple calculation of camera viewing angle
Reflectance spheres – Black sphere not only shows the number, position and type of lighting (spot or flood), but also the hue or color filtration of individual lights. The white sphere shows the integrated level and color temperature
Black Background – provides cleaner histograms.