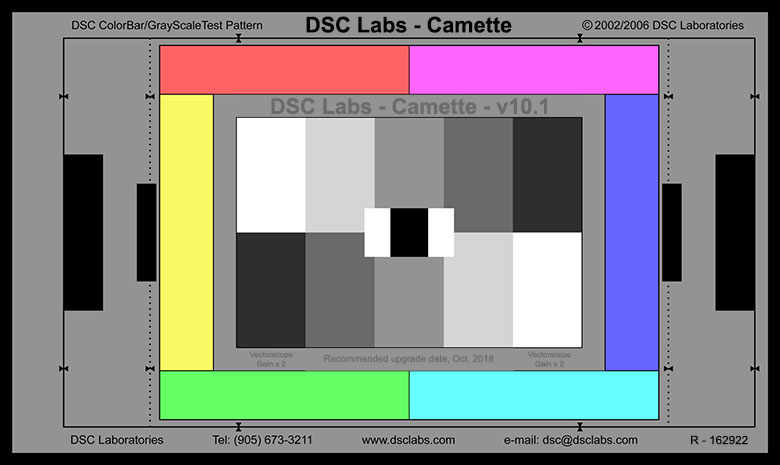 Camette®
Six primary color chips
Five step crossed grayscale
18% neutral grey background with 16:9 framing lies
Pouch and lanyard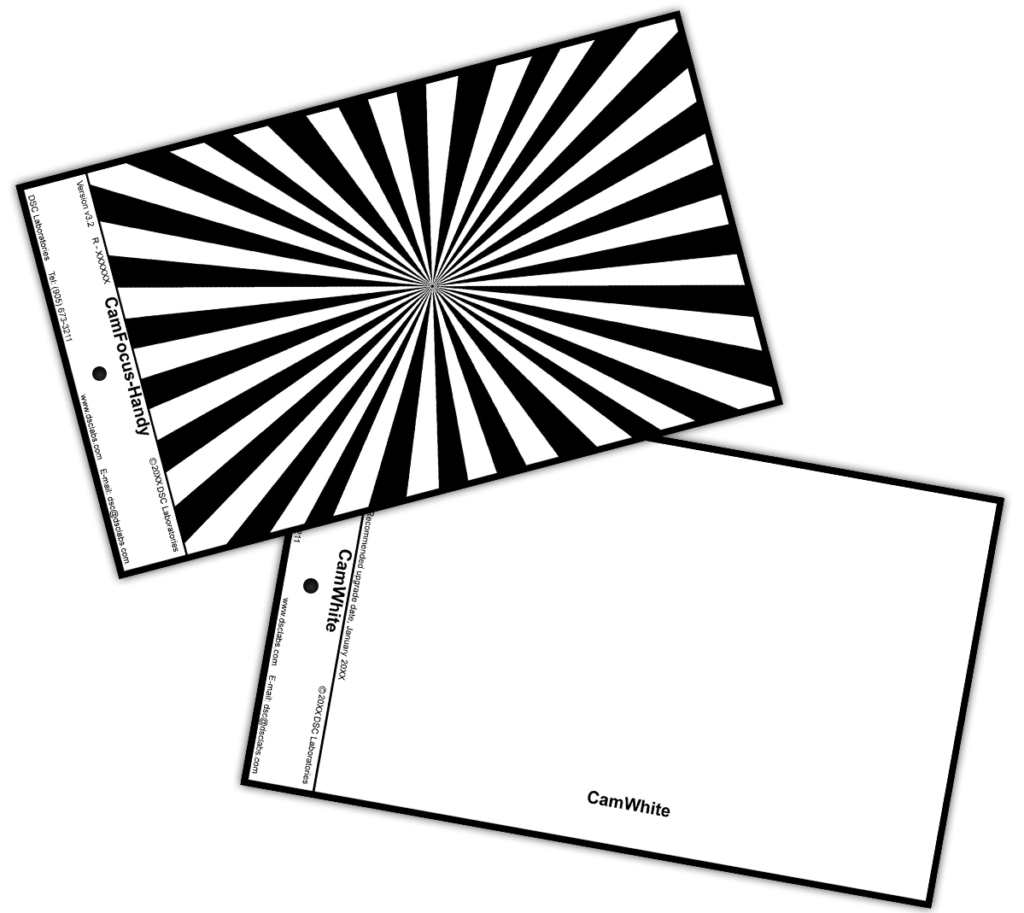 Camfocus
DSC's unique extended Bow-Tie Star (eye focus)
Quickly and easily focus your camera for sharp images of your subject every time
Pouch and lanyard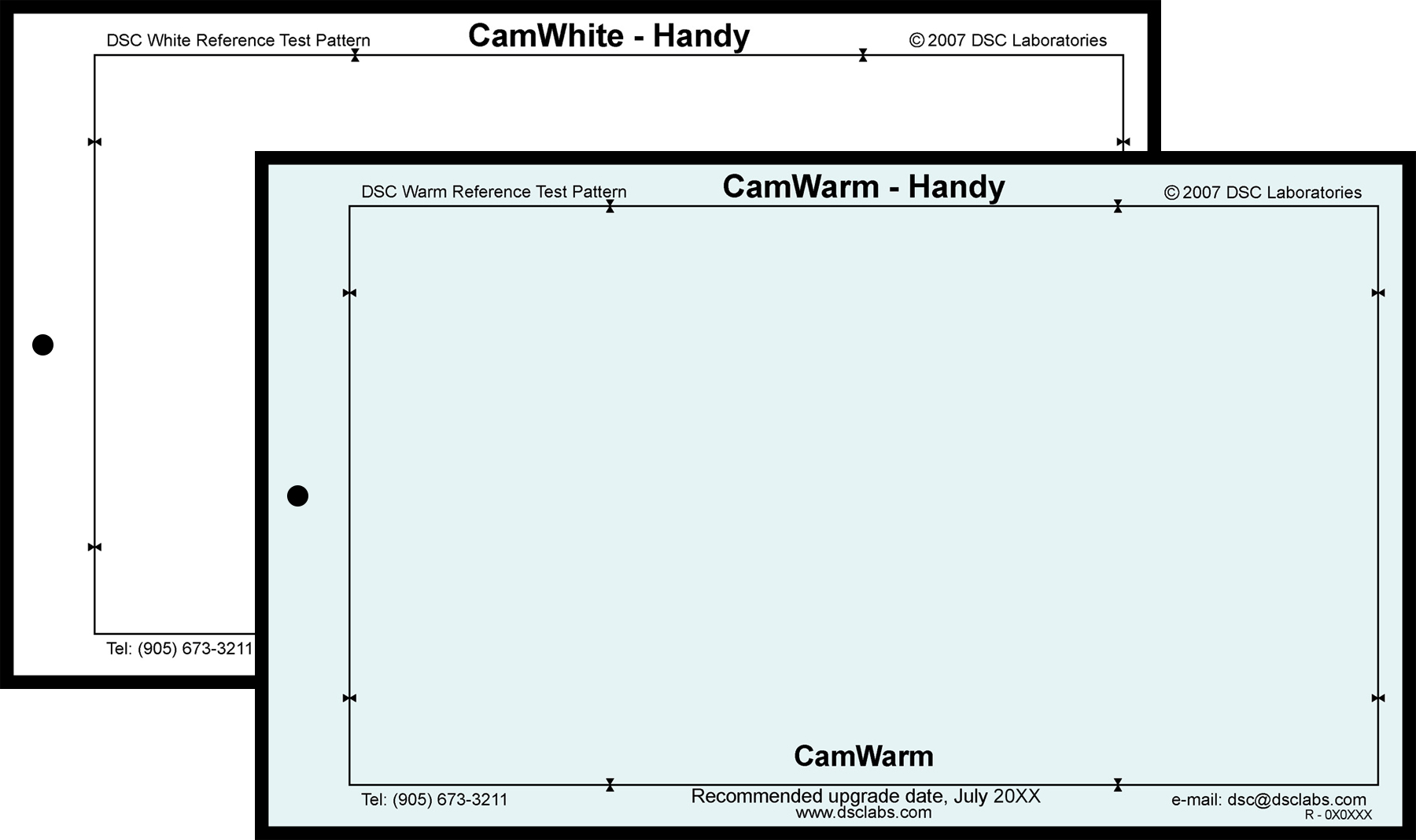 White N' Warm
Warm card allows for a warm effect to be added to images
Warmed images produce more appealing and healthy skin tones
Pouch and lanyard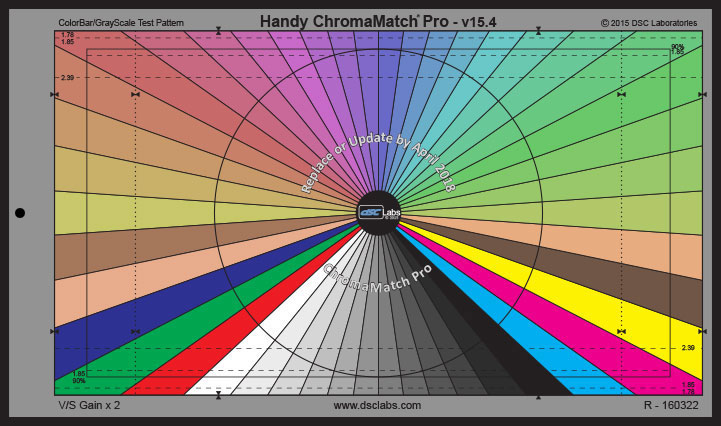 ChromaMatch® Pro
Six Vector Colors
Plus 18 intermediate ChromaDuMonde colors
4 Skin tone colors
Plus Six wide gamut colors
DSC 11 – step grayscale
100 IRE white and true black chips
16:9 (1.78) and 4:3 framing bowties plus motion picture framing lines for 2.35, 1.85 and 90% of 1.85.
Pouch and lanyard
Digital file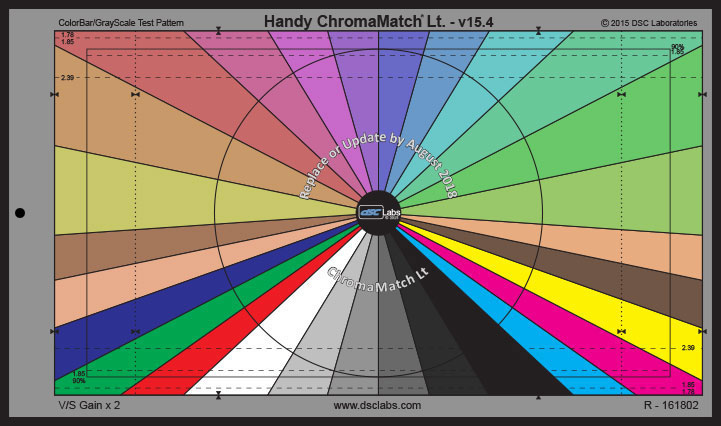 ChromaMatch® Lt
12 Colors – 4 Skin Tones – 6 high saturation colors
5 step grayscale
Multimple framing lines
Neutral White on reverse
Pouch and lanyard
Digital file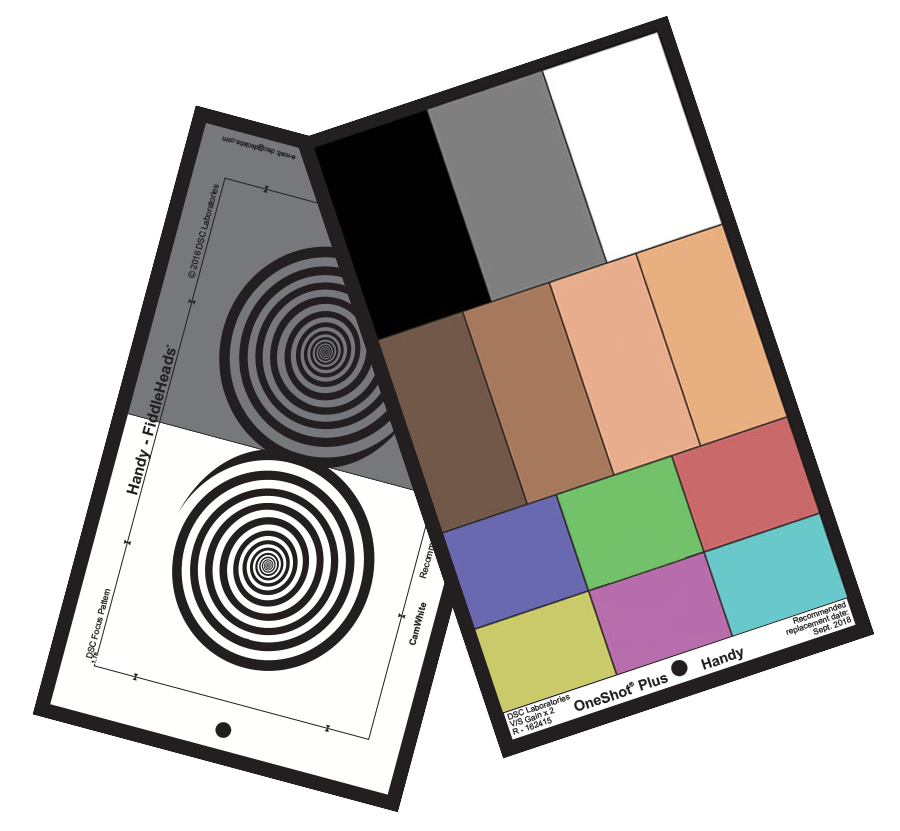 Handy OneShot® Plus (HOSP)
The DSC Labs OneShot chart is designed to capture as much camera and scene lighting information in one shot as possible so that dailies look as close to the DP's intent as possible.
Provides a colorist with the full dynamic range of a scene, plus DSC Precision colors and skin tones
DSC's "AcuFlect" wide dynamic range, washable gloss surface, eliminates unreliable matte chart flare. Film-style production schedules don't generally allow much time to shoot a glossy chart and eliminate reflections, but matte surface can be too delicate for field production
Pouch and lanyard
OneShot Plus Handy chart includes FiddleHeads pattern over additional larger 18% gray and white patches on rear. Unique graduated double spiral design simplifies backfocus adjustment.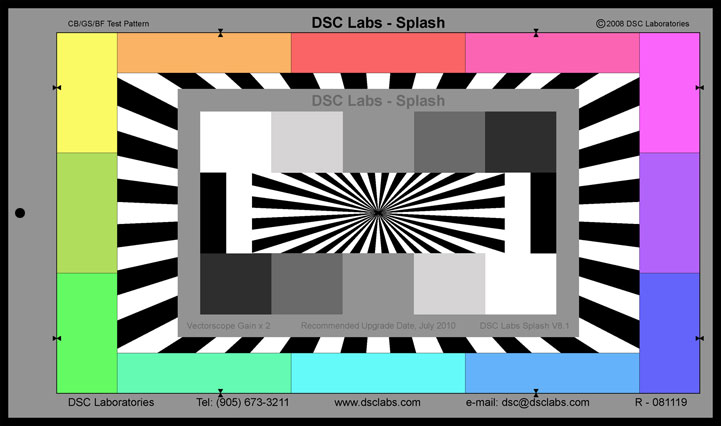 Splash (Handy only)
12 primary and secondary color chips
Five step crossed grayscale
Inset back focus for quick camera setup
Sealed for prolonged usage underwater
Pouch and lanyard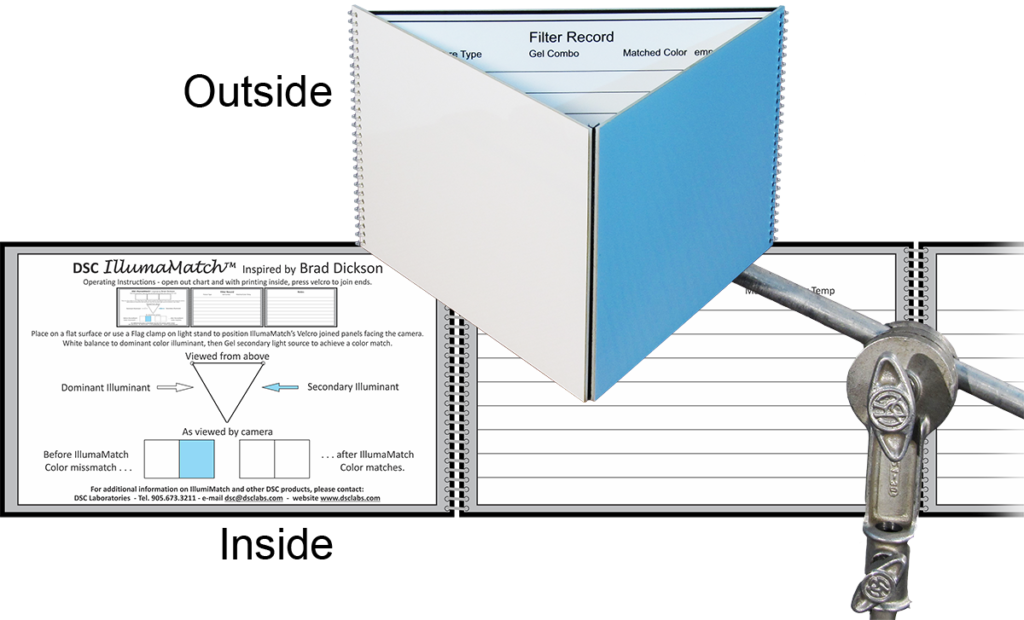 IllumaMatch® (Handy only)
3-sided self-supporting chart
Neutral white outside
Instructions and note pad on reverse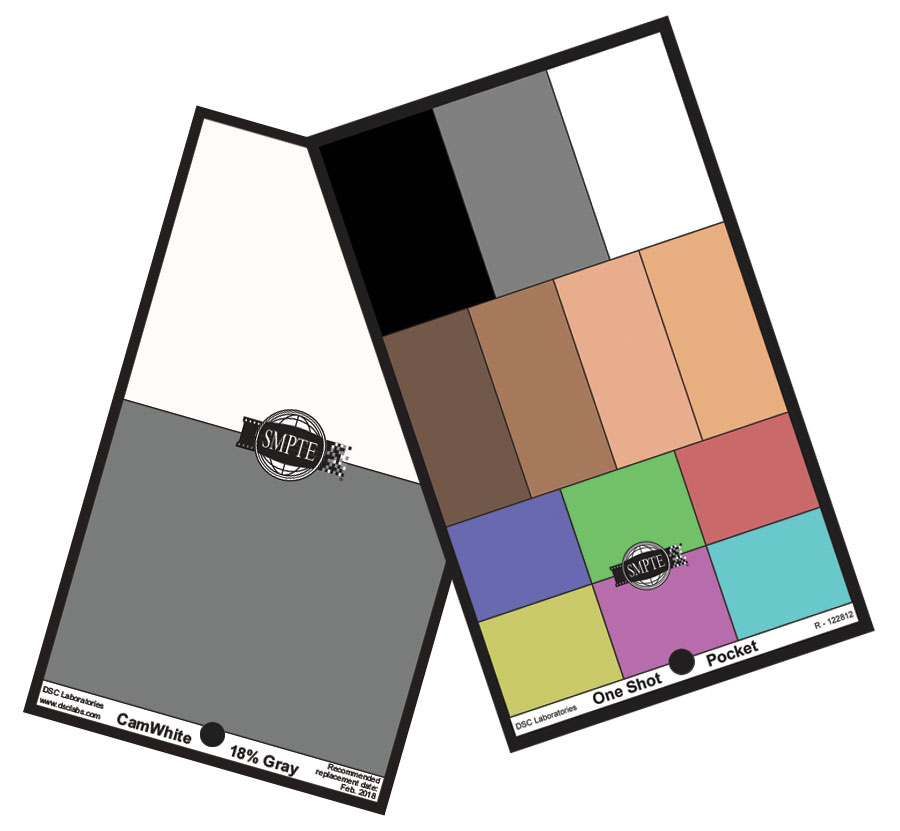 (SMPTE) OneShot®
— (Also available for purchase from SMPTE – Matte surface) —
Invaluable Basic chart for use as an on-the-set reference in high pressure and time sensitive shooting environments.
Provides a colorist with the full dynamic range of a scene, plus DSC Precision colors and skin tones
Original OneShot is printed with a matte surface to reduce obvious reflections
Pouch and lanyard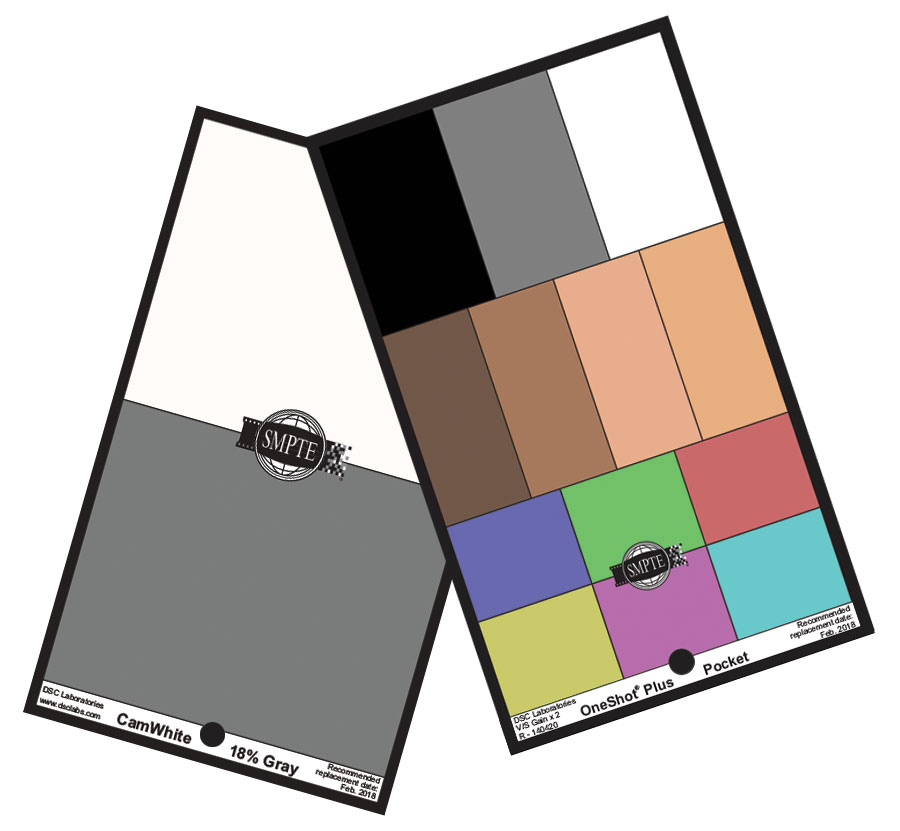 (SMPTE) OneShot® Plus
— (Also available for purchase from SMPTE – "AcuFlect" gloss surface) —
The DSC Labs OneShot chart is designed to capture as much camera and scene lighting information in one shot as possible so that dailies look as close to the DP's intent as possible.
Provides a colorist with the full dynamic range of a scene, plus DSC Precision colors and skin tones
DSC's "AcuFlect" wide dynamic range, washable gloss surface, eliminates unreliable matte chart flare. Film-style production schedules don't generally allow much time to shoot a glossy chart and eliminate reflections, but matte surface can be too delicate for field production
Pouch and lanyard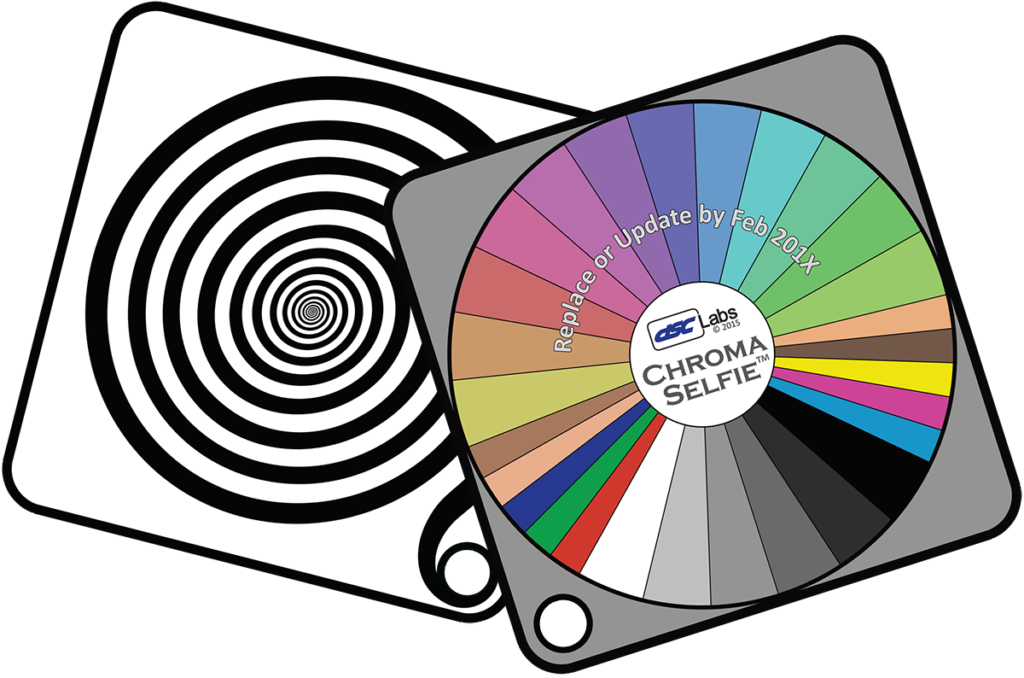 Chroma-Selfie® (Pocket only)
12 colors-4 SkinTones-6 high saturation colors
5 step Grayscale
FiddleHead on reverse
4 x 4″ OD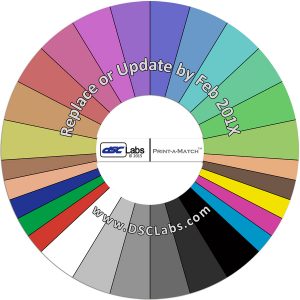 Print-A-Match® (Pocket only)
12 colors – 4 SkinTones – 6 high saturation colors
5 step grayscale
Digital file
4″ OD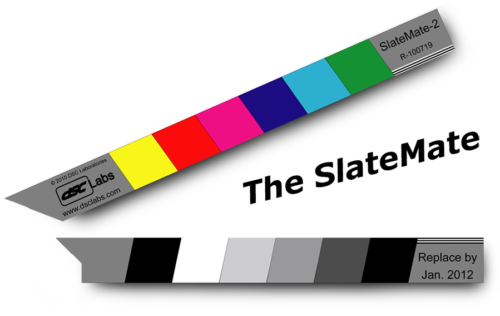 SlateMate® (Pocket only)
6 Vector Colors
5 – step grayscale
Strips for slates
10 x 1″ OD
Slate Mate has an adhesive backing for ease pf application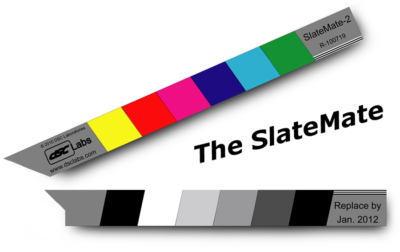 SlateMate® Mini (Pocket only)
6 Vector Colors
5 – step Grayscale
Strips for slates
7 x 0.75″ OD
Slate Mate has an adhesive backing for ease pf application