Tom Campbell
Swimming with sharks is all in a day's work for marine photographer and HD cinematographer Tom Campbell.
A shooter's dream, or maybe nightmare …
15 ft. white shark off the coast of South Africa!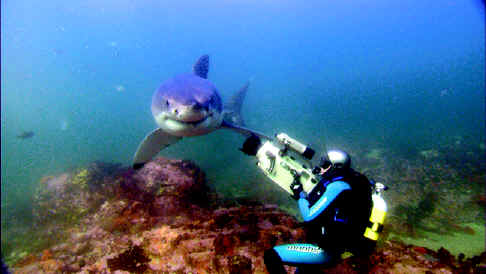 Tom's shooting HD fin-side while cameraman Dennis Coffman
shoots Tom with a second HD camera.
Chances are good that you've already seen Tom's work on magazine covers, posters, calendars and greeting cards. This gifted and prolific photographer has 78 magazine covers to his credit, and has also shot film and video for many years. You may have seen Tom recently in "Through the Lens", a National Geographic Special featuring nine of the world's top cinematographers.
Born in North Dakota, Tom has always loved the water, even as a child. His family moved to Alberta, Canada when Tom was a teenager. He didn't much like Canada because it was "too damn cold." Growing up with the intrigues of "Sea Hunt" and the underwater marvels of "Jacques Cousteau," Tom learned to dive in the frigid lakes and rivers of the Canadian Rockies.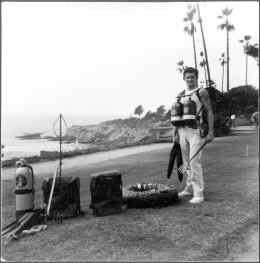 Tom struck out on his own to California
with the hope of becoming a professional military diver.  Pictured at Laguna Beach, just before the military haircut!
Tom trained hard and enlisted with the US Marine Corps, and was selected for the Marine's elite Force Recon Teams. Then six years of the ultimate in extreme adventure – diving and covert operations around the world, including an assignment with the US Navy's Seal Team One in Vietnam.
Back home in California, Tom became a certified diving instructor and introduced hundreds of people to the beauties of the undersea world. Graduating from college in 1970 with a degree in criminal law and business, Tom had no inclination to sit in an office all day. So he joined the California Highway Patrol. During his two decades in law enforcement, Tom nurtured his love of photography and filmmaking. By the mid 1990s, Tom's "other" career – as a photographer, cameraman and DP – was in full swing, with projects for clients including the Discovery Channel and the National Geographic Society.
During his CHP career, Tom worked with John Travolta and was involved in making a film for the Sober Graduation Program, to reduce vehicle accidents due to alcohol and drug use amongst high-school and college students.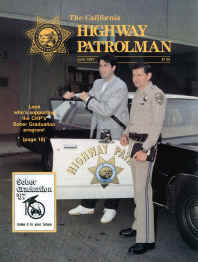 Bitten by the HD bug in 1998, Tom was determined to add HD to his shooting repertoire. He started his HD career with "no money, no jobs, but some really nice cameras." With not many people shooting this format in Tom's specialties, wildlife and underwater documentary, there were lots of unknowns to explore. In addition to technical and artistic challenges, Tom's priority was to promote HD and himself to potential clients. With his best HD work on a promo DVD, it wasn't long before his phone began to ring!
Tom had been shooting HD for three years before attending a Santa Fe High-Definition Workshop in 2001. Tom is now one of the instructors for the underwater program, and in demand on the speaker circuit. For Tom, work is like a vacation with the volume cranked up; it allows him to get paid to do what he loves. "I'm outdoors, I work with wildlife, travel, meet interesting people, and use all the toys I like best." And, he's always liked being able to give something back – to society and to the environment.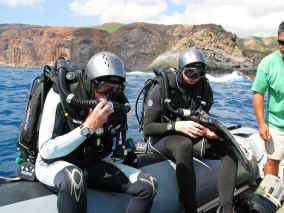 Getting ready to dive with technician/cameraman
Dennis Coffman, 250 miles off the shore of Mexico. Socorro Island is home to manta rays and many shark species.
Tom's work takes him from the US and Europe to Asia and Africa, and back again.  He enjoys producing and directing documentaries for the "Save Our Seas Foundation,"  projects which help to fund marine conservation initiatives around the world.  Tom considers his professional experiences with the SOS to have been amongst the most rewarding of his career.  He shoots frequently for the Discovery and History Channels.  We reached him just as he was leaving for Micronesia, to shoot the story of a mysterious sunken submarine in Truk Lagoon, a tropical lagoon with some 40 shipwrecks dating to WW2.  With the wrecks now integrated into the kaleidoscopic undersea world, Truk is both an historic and beautiful place for diving.
Laminated Junior CamAlign CBGS in action …  just try that with a regular cardboard test chart!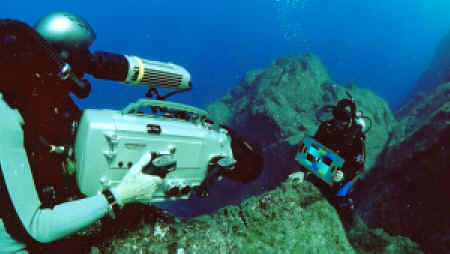 Tom shoots with a Sony Cine Alta F-900 24p camera, and was introduced to DSC's colorful CamAlign Chip Charts several years back by Steve Lucas, the video guru at Plus-8 Digital in Burbank. Tom's first chart was a two-sided CamAlign Junior ColorBar/GrayScale (CBGS) with DSC's unique hyperbolic BackFocus star. The Junior chart travels well because of its compact size, and Tom's chart has already been underwater for more than a dozen hours! As well as using it for camera service, Tom records the ColorBar/GrayScale as a scene reference, both above and below the water. His colorists are happy to have the chart information to use in post for quick and easy image matching and color correction.
So, what's ahead for this energetic achiever? To keep shooting programs that put something back into the environment, and to keep making pictures that are more "blue chip" in their look than today's prevalent reality shows. And, to continue exploring and promoting the HD format, "so that more people can enjoy this incredible technology and its benefits. And, when I get the chance to help someone trying to make it in this competitive business, I lend a hand."
Like swimming with sharks (and did we mention that Tom doesn't use a cage?), it's all in day's work … just another day in the office!