Scott Billups scooted in a wheelchair into the DSC booth at  NAB 1999. In true Billups style, the fact that he had broken numerous bones in an ice climbing mishap and was in considerable pain, failed to slow him down.  He was, then as now, searching out the latest industry tools and techniques to include in a new book.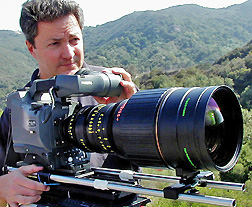 Back on his feet again and running at full tilt, Scott dashed into our booth with his usual exuberance again after presenting the keynote address at NAB 2002.
Editing in Hollywood until 2AM the night before, and asked by Minky, his charming wife/partner, "Shouldn't we be leaving??" – after a six hour drive to Las Vegas this dynamic duo checked into their hotel.
Scott cleaned up, and arrived in time to deliver his 45-minute speech to a standing room only crowd.  One may well ask … who else but Scott Billups has this kind of energy?
And, where did this guy come from?  How has he earned fame and fortune?
The son of a Minister, Scott spent his early years in upstate New York, using his natural cinematographic talents to put himself through college – shooting for documentary legends such as McGilvery/Freeman, Wolper, and the National Geographic Society.  As a junior stringer at WNET, he covered Woodstock in 1969.
Scott finished his college education in 1973 and, with substantial film experience, moved west to Los Angeles.  Finessing an introduction to "the best cinematographer I knew of", James Wong Howe hired him on the spot.  His internship with the Oscar award-winning cinematographer ended with his mentor's death in 1975.  Scott continued to work with some of Mr. Howe's clients until starting his own company.  His fledging business grew rapidly to an 85-person production and advertising company with offices in three states.
In 1983, Scott sold his business with a view to his retiring. It's surprising that his "retirement" lasted for as long as four months!
In the years since, Scott has directed, written and produced over 40 television shows, 18 feature documentaries, 75 industrial films, 200 TV commercials and 20 music videos.  His formidable creative talents have been used in the original visualizations for Jurassic Park, in 1,000+ visual effects sequences for a diverse roster of clients, promos for the major networks, and opening sequences for TV shows.  Within the last few years, Scott has written two books, three screenplays, and four TV series episodes.  He has served as Visual Effects Supervisor on 12 motion pictures since the turn of the century, including the Academy Award nominated Mulholland Drive, shot six commercials (including the international Sony PlayStation2, directed by David Lynch) and created the graphics for five television shows including Ripley's Believe It Or Not!  And in his "spare time", Scott has built the http://www.pixelmonger.com/ website, "A Virtual Studio for Moviemakers".  With many industry awards to his credit, Scott has earned an enviable reputation both as a director, and as a leading technological innovator, most recently in HD.  At the time of writing Scott is in post production on a motion picture he wrote and directed called Mid-Century, which stars John Glover, Fay Dunaway and Terri Hanauer.
We appreciate the suggestions Scott has made in the development of new DSC test charts – and are proud that individuals of his stature enjoy using our products.  It's wonderful when a manufacturer/client relationship develops into the kind of warm friendship we at DSC feel for Scott and his wife, Minky.