Roger Macie
He's a real cool sailor . . .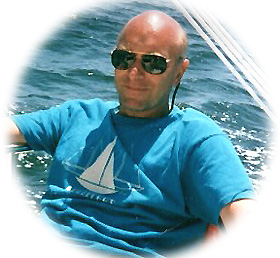 . . . but even cooler with a screwdriver in his hand.
You might say that Roger Macie was born into broadcasting; his father, Stan Macie was a pioneer in the industry.  The elder Macie worked on the construction and maintenance of one of the first television stations – WGBH-TV Boston, a flagship of the PBS network.
With a solid training in electronics at Don Bosco Technical High in Boston and a BSEE from Northeastern University, Roger's career began in the early '70s.
Fresh out of college, Roger jumped right into broadcast maintenance and video camera shading at Videocom in Boston – the first TV production house east of New York.  From commercials to production, aligning cameras to make better-looking pictures became Roger's obsession. His next job was at WCVB TV (ABC), then came WGBH TV (PBS Boston), followed by the Christian Science Monitor Channel, again specializing in video shading, camera and recorder maintenance, along with other studio and remote assignments.
In 1990, Roger recognized a need for an independent camera alignment facility to service freelance videographers and rental house equipment.  With invaluable experience under his belt and an entrepreneurial spirit, Roger decided to start Macie Video Service. Good camera alignment requires good test patterns. So one of Roger's early tasks was to call DSC to ask about the Ambi/Combi rear-lit test system.  We first met Roger soon after he opened when, on the way to our annual sailing vacation at Cape Cod, we dropped off some charts to the fledgling Macie Video
Like most successful companies, Macie Video started small, very small, servicing equipment for a handful of clients. But Roger knew what the industry wanted and in no time Macie Video exploded onto the scene. The Company now serves well over a thousand clients nationwide. Roger credits his success to fast turnaround and to what many consider to be "the most expert service in the country". One freelancer quipped recently, "I call Roger the Pope of Video." It didn't take long before Macie Video required more space, so the company moved down the road into its current commercial building in Dedham, Mass where Roger works with six assistants
The need, not only to improve picture quality and camera matching, but to achieve "consistency between network crews" inspired Roger to develop the "Macie Uniform Standard". Using DSC's Ambi/Combi System he is able to improve and match all popular cameras, virtually independent of the make and model
With 100% client satisfaction, Roger says "the Macie Uniform Standard accounts for fifty percent of our new clients". For a number of years videographers had been warming up pictures by "white balancing" on a piece of blue paper or by placing a blue filter over the lens. The results were less than optimum and inconsistent. So Roger called David at DSC to discuss the possibility of developing a commercially viable warming card system, the rest is history
The list of Roger's achievements is impressive:
Development of the www.broadcastvideo.com website – a joint venture with Barbara Holler of NewPro Video, it contains "The Freelance Guide" – a global freelance videographer listing service – and "The Net Police" for stolen video gear.  Both are free and maintained at Macie Video between repairs. Roger regularly writes maintenance tips and other broadcast related articles, all of which are archived on his other website  http://www.macievideo.com/. Roger's extracurricular activities include leading a group study at his local church. The subject is "Personal finance based on biblical principles".
By any measure Roger Macie is a successful person.  Ask him why and he will tell you that his Christian faith and concern for others are what drive his personal and business life.  Helping others brings him joy and his favorite verse from scripture keeps him motivated: "I can do all things through Him who strengthens me".  Philippians.
What's next for Roger?
Find out by visiting his website at http://www.macievideo.com/ and by subscribing to his newsletter.  Stay tuned – one thing for sure, with an ever-changing industry, Roger is not standing still!