B. Sean Fairburn
Highly disciplined, deeply religious and fiercely American . . .
. . .is the image many have
of Sean Fairburn.  Yes, he's
all of these and more.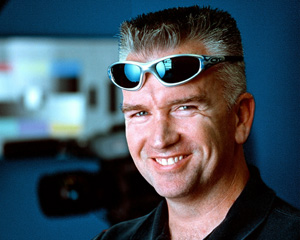 We are privileged to know another side of Sean Fairburn, the loving family man with a super supportive wife Amy and great children.  This is a man who makes toys for the kids to take to church meetings, etc.  We know – we once sat outside his church until we nearly froze, while 20 kids blew homemade sailboats along a trough of water.   No one could leave until virtually every small child had won a prize – first, second, third, best looking boat, etc.   As his e-mail address suggests, Sean takes his responsibility as a "rolemodel" very seriously.Gunner Fairburn is a tough, proud US Marine.  He is also respected by his peers as one of the most knowledgeable High Definition DPs in the industry.
The eldest son of a machinist in Hammond, Louisiana, Sean moved to California at age 12.  He studied acting and TV production in high school and college, played defensive back for the Capistrano Valley Cougars football team, and joined the Marine reserves in Orange County, CA.
Sean began his career wanting to be a Stuntman, but was recruited by a local Sports TV show looking for new camera operators with the instincts to know where the offence was going.  For three years Sean shot every sport in southern California, shooting and producing commercials as well.  "It was a tough training ground, but the skills I learned there have served me well ever since".
Activated by the Marine Corps, Sean and his Light Armored Infantry Unit ("A" Co 4th LAR), performed recon and screening missions and shot video in Kuwait, during Operation Desert Storm.
Upon returning home, Sean married a bayou belle and moved to Branson, Missouri.  He shot live music and variety shows as well as touring with artists directing and shooting for I-MAG, the big screens above the stage.  After five years it was time to pursue what Sean really wanted to do – big action adventure films.  So, while still shooting cable TV and magazine shows like "Entertainment Tonight", he began to day play on sit-coms and dramatic series operating both video and film.
As a Beta SP owner/operator, Sean kept his gear in good shape with the help of Steve Lucas at Plus-8 Digital.  "Steve has the skill to interpret the style and personality of a DP and incorporate it into the camera".   A quest to know as much about the camera as possible sent Sean into a phase of testing that continues to this day.
In the summer of 2000, after 14 years in video and six years in film, these two worlds came together with 1080 24P,  AKA "High Definition".  Sean describes film and video disciplines coming together in HD.  "Down in Louisiana where the fresh Mississippi river flows into the salty Gulf of Mexico the two get mixed up with the ebb and flow of the tide.  This is called "Brackish Water", and High Def is Brackish Water".
Investing time learning from engineers like Steve Lucas, David Canning, and Pete Fasciano along with colorists, editors, camera manufacturers and video shaders, Sean researched the gamut of ways to control images from film and video. "The level of precision I was seeking was given a new tool from DSC Labs.  David Corley and crew were so approachable, listening to users and customers.  So much so, that when I asked for a specific Back Focus chart David built the special pattern that I designed and then made it available to everyone at my suggestion.  David understands the requirements of professionals working at the highest level of precision, and provides us with the tools to get the job done right"
"Since Steve Lucas introduced me to DSC, I have done every feature film, TV show, and commercial using DSC charts. It's a tool that I must have to maintain a consistent high level of performance.  Regardless of what camera is used, the consistent reproduction of images is paramount."
As a Combat Camera Officer for the Marine Reserves, Sean also shoots High Def and trains Marines to effectively use the gear. Sean spends vacation time shooting long multiple exposures with an 8×10 large format view camera of things people don't usually get to see.
The skills learned shooting uncontrolled sports action came in handy while serving John Woo as combat camera operator on "Windtalkers".  Operating regularly on "Enterprise" and "American Dreams" keeps Sean close to film, which he still loves and considers the art of image capture.
Sean has worked on many High Definition features including "Nicolas", "Once Upon a Time in Mexico", "Different Places", "A Day in the Dirt".  HD TV credits include "Rides", "Letters from a Nut" and "American Family".  Numerous HD Commercials have all benefited directly from Sean's work and experience. "Kraft", "AT&T", "Honda", "Toyota", "Cadillac", "Marines", "Army".
Sean lectures on the subject and has contributed to the industry with informative articles like: "HD Fact Sheet 101", "HD 1st AC Lesson Plan 101", and recently "Tech Prep Q's for HD Shoot".
Sean Fairburn SOC has helped dispel myth and misinformation, while giving people practical answers to HD Questions. Contributing for years to CML-HDTV, Sean is known and respected for sharing his knowledge and encouraging others to do the same.
However, the most important thing to Sean is his family.  "With four sons and one daughter, my goal is to be the best grandfather I can be.  I would also like to earn a Lifetime Achievement Award for cinematography.  I recognize that the work I am doing now will affect both the future of my family and the future of my career."